Kerry spinning on her Fidelis wheel.
Kerry and I began our trek to the festival around 9 A.M. We got there around 10:40 and parked. We stopped for gas, caffeine and Horse Drugs at a Vet along the way. We also got turned around twice because the signs appeared "right at the turns". Anyway we were parked a mile away from Eric and Jana's booth and had to carry our wheels and fiber goodies there. We sat across the way under the shade of the beautiful blooming crepe myrtles. Yes, (to my family) I was smothered in bug spray :P and I had my allergy meds on board. We were between a lady selling jewelry and another selling hand made purses. We enjoyed a chat with a gentleman who was an Airforce Vet, that was waiting for his wife. (next year I am going to take a recorder with me so I have names, pictures etc. and more details....a real "report". We set up our wheels and got to "spinning". Kerry's Fidelis drew tons of attention. Mostly from children and men. The men were tickled pink. The children wanted to break their fingers on the flyer. The mothers were simply relieved to be able to shop unencumbered.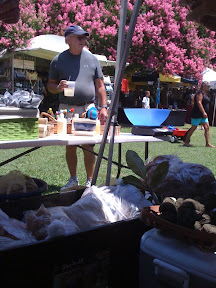 I think this is Jana's neighbor?

Needless to say the lady with the jewelry was a whiner and complained about us "blocking her through traffic". So Eric and Jana made room for us in the tent. Our traffic moved with us. Karma is a bitch. After we left her booths' traffic damn near disappeared. The husband of the lady selling the purses offered to set us up on the other side of his tent because they appreciated the added attraction that was giving potential customers more time in their area to peruse the merchandise and "spontaneously" purchase something that they might not have seen otherwise. Our Airforce Veteran who we were were talking to while his wife shopped, stopped by again as well and was curious as to why we moved from under a good shady spot to inside the booth which was at the time in the direct sunlight. We explained and he looked over and laughed at her lack of business and said well the Good Lord don't like ugly and you reap what you sow.
Jana talking to a potential customer!
So Beatrice and Viviano came. He got more spindle spinning lessons and Beatrice wowed us with her knitting and enthusiasm. Viviano and Bea purchased some rocking hats....which I have since found at the Wal-Greens.....Kerry and I walked around and got lunch from the Big Yellow Bus. Awesome food and healthy too! Thank you Beatrice for the icecream....it was delicious. I would also like to thank the lady who gave us directions that was selling sweet corn. We stopped on our way out and her husband was manning the cart and purchased sweet corn from him. Yummy!! Thank you for the ride Kerry. Thank you Jana and Eric for inviting us. We had an awesome time and next year I want to take my entire family.
- Spinning saves lives one fleece at a time!